Denmark is a country in Northern Europe. The southernmost of the Nordic countries, it is southwest of Sweden and south of Norway, and bordered to the south by Germany. Denmark is part of Scandinavia, together with Sweden and Norway. The Kingdom of Denmark is a sovereign state that comprises Denmark and two autonomous constituent countries in the North Atlantic Ocean: the Faroe Islands and Greenland. Denmark proper has an area of 43,094 square kilometres (16,639 sq mi),and a population of 5,678,348 (July 2015).The country consists of a peninsula, Jutland, and an archipelago of 443 named islands, of which around 70 are inhabited. The islands are characterised by flat, arable land and sandy coasts, low elevation and a temperate climate.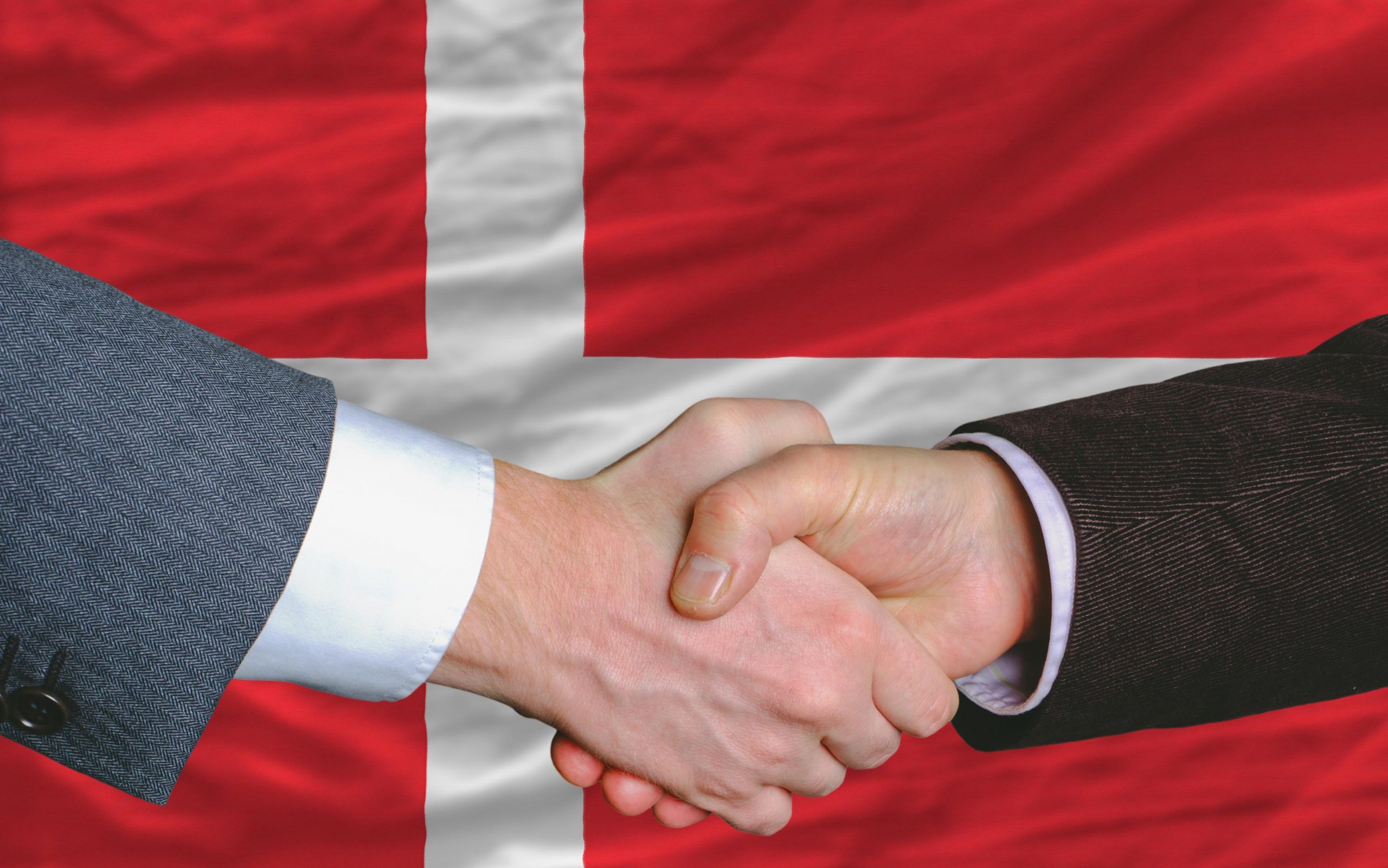 The unified kingdom of Denmark emerged in the 10th century as a proficient seafaring nation in the struggle for control of the Baltic Sea. German and Danish kings of Denmark and a queen ruled the personal Kalmar Union, established in 1397 (of Denmark, Norway and Sweden), which ended with Swedish secession in 1523. Denmark and Norway remained under the same king until the union was dissolved by outside forces in 1814. Caused by the Black Death, the deterioration of the Kingdom of Norway made it possible for Denmark to inherit an expansive colonial empire from this union, of which the Faroe Islands and Greenland are remnants. Beginning in the 17th century, there were several cessions of territory; these culminated in the 1830s with a surge of nationalist movements, which were defeated in the 1864 Second Schleswig War. Denmark remained neutral during World War I. In April 1940, a German invasion saw brief military skirmishes while the Danish resistance movement was active from 1943 until the German surrender in May 1945. An industrialized exporter of agricultural produce in the second half of the 19th century, Denmark introduced social and labour-market reforms in the early 20th century, making the basis for the present welfare state model with a highly developed mixed economy.
The Constitution of Denmark was signed on 5 June 1849, ending the absolute monarchy which had begun in 1660. It establishes a constitutional monarchy—the current monarch is Queen Margrethe II—organised as a parliamentary democracy. The government and national parliament are seated in Copenhagen, the nation's capital, largest city and main commercial centre. Denmark exercises hegemonic influence in the Danish Realm, devolving powers to handle internal affairs. Denmark became a member of the European Economic Community in 1973, maintaining certain opt-outs; it retains its own currency, the krone. It is among the founding members of NATO, the Nordic Council, the OECD, OSCE, and the United Nations; it is also part of the Schengen Area.
Danes enjoy a high standard of living and the country ranks highly in numerous comparisons of national performance, including education, health care, protection of civil liberties, democratic governance, prosperity and human development. Denmark is frequently ranked as one of the happiest countries in the world in cross-national studies of happiness. The country ranks as having the world's highest social mobility,a high level of income equality,has one of the world's highest per capita incomes, and has one of the world's highest personal income tax rates. A large majority of Danes are members of the National Church, though the Constitution guarantees freedom of religion.
Religion
In January 2015, 77.8%[145] of the population of Denmark were members of the Church of Denmark (Den Danske Folkekirke), the officially established church, which is Lutheran in tradition.[146] This is down 0.6% compared to the year earlier and 1.3% down compared to two years earlier. Despite the high membership figures, only 3% of the population regularly attend Sunday services.
The Constitution states that a member of the Royal Family must be a member of the Church of Denmark, though the rest of the population is free to adhere to other faiths. In 1682 the state granted limited recognition to three religious groups dissenting from the Established Church: Roman Catholicism, the Reformed Church and Judaism,although conversion to these groups from the Church of Denmark remained illegal initially. Until the 1970s, the state formally recognised "religious societies" by royal decree. Today, religious groups do not need official government recognition, they can be granted the right to perform weddings and other ceremonies without this recognition.Denmark's Muslims make up approximately 3% of the population and form the country's second largest religious community and largest minority religion. The Danish Foreign Ministry estimates that other religious groups comprise less than 1% of the population individually and approximately 2% when taken all together.
According to a 2010 Eurobarometer Poll, 28% of Danish citizens polled responded that they "believe there is a God", 47% responded that they "believe there is some sort of spirit or life force" and 24% responded that they "do not believe there is any sort of spirit, God or life force". Another poll, carried out in 2009, found that 25% of Danes believe Jesus is the son of God, and 18% believe he is the saviour of the world.
Cultural life
Denmark shares strong cultural and historic ties with its Scandinavian neighbours Sweden and Norway. It has historically been one of the most socially progressive cultures in the world. Denmark replaced its "registered partnership" laws, which it had been the first country to introduce in 1989, with gender-neutral marriage. Modesty, punctuality but above all equality are important aspects of the Danish way of life.
Statue of philosopher Søren Kierkegaard.
The astronomical discoveries of Tycho Brahe (1546–1601), Ludwig A. Colding's (1815–88) neglected articulation of the principle of conservation of energy, and the contributions to atomic physics of Niels Bohr (1885–1962) indicate the range of Danish scientific achievement. The fairy tales of Hans Christian Andersen (1805–1875), the philosophical essays of Søren Kierkegaard (1813–55), the short stories of Karen Blixen (penname Isak Dinesen), (1885–1962), the plays of Ludvig Holberg (1684–1754), and the dense, aphoristic poetry of Piet Hein (1905–96), have earned international recognition, as have the symphonies of Carl Nielsen (1865–1931). From the mid-1990s, Danish films have attracted international attention, especially those associated with Dogme 95 like those of Lars von Trier.
There are five Danish heritage sites inscribed on the UNESCO World Heritage list in Northern Europe: Christiansfeld, a Moravian Church Settlement, the Jelling Mounds (Runic Stones and Church), Kronborg Castle, Roskilde Cathedral, and The par force hunting landscape in North Zealand.
Sport
Sports are popular in Denmark, and its citizens participate in and watch a wide variety. The national sport is football (soccer), with over 320,000 players in more than 1600 clubs.[188] Denmark qualified six times consecutively for the European Championships between 1984 and 2004, and won the Championship in 1992; other significant achievements include winning the Confederations Cup in 1995 and reaching the quarter-final of the 1998 World Cup. Notable Danish footballers include Allan Simonsen, named the best player in Europe in 1977, Peter Schmeichel, named the "World's Best Goalkeeper" in 1992 and 1993, and Michael Laudrup, named the best Danish player of all time by the Danish Football Association.
There is much focus on handball, too. The women's national team celebrated great successes during the 1990s. On the men's side, Denmark has won eight medals—two gold (in 2008 and 2012), three silver (in 2011, 2013 and 2014) and three bronze (in 2002, 2004 and 2006)—the most that have been won by any team in European Handball Championship history.
In recent years, Denmark has made a mark as a strong cycling nation, with Michael Rasmussen reaching King of the Mountains status in the Tour de France in 2005 and 2006. Other popular sports include golf—which is mostly popular among those in the older demographic;tennis—in which Denmark is successful on a professional level; rugby—the Danish Rugby Union dates back to 1950;[192] rowing—Denmark specialize in light-weight rowing and are particularly known for their light-weight coxless four, having won six gold and two silver World Championship medals and three gold and two bronze Olympic medals; and several indoor sports—especially badminton, table tennis and gymnastics, in each of which Denmark holds World Championships and Olympic medals. Denmark's numerous beaches and resorts are popular locations for fishing, canoeing, kayaking, and many other water-themed sports.
Education
The Danish education system provides access to primary school, secondary school and higher education. All college and university education in Denmark is free of charges; there are no tuition fees to enroll in courses. Students in secondary school or higher and aged 18 or above may apply for state educational support grants, known as Statens Uddannelsesstøtte (SU) which provides fixed financial support, disbursed monthly.
Primary school is known as the folkeskole. Attendance at pre-school is not compulsory, but most Danish children go to primary school for 10 years, from the age of 6 to 16. There are no final exams, but pupils in primary schools can choose to go to a test when finishing ninth grade. The test is obligatory if further education is to be attended. Pupils can alternatively attend a private independent school (friskole), or a private school (privatskole) – schools that are not under the administration of the municipalities, such as Christian schools or Waldorf schools.
Following graduation from primary school, there are several educational opportunities; the Gymnasium (STX) attaches importance in teaching a mix of humanities and science, Higher Technical Examination Programme (HTX) focuses on scientific subjects and the Higher Commercial Examination Programme emphasizes on subjects in economics. Higher Preparatory Examination (HF) is similar to Gymnasium (STX), but is one year shorter. For specific professions, there is vocational education, training young people for work in specific trades by a combination of teaching and apprenticeship.
Danish universities and other higher education institutions offer international students a range of opportunities for obtaining an internationally recognised qualification in Denmark. Many programmes may be taught in the English language, the academic lingua franca, in bachelor's degrees, master's degrees, Ph.D.s and student exchange programmes.
Science
In the 20th century, Danes have also been innovative in several fields of the technology sector. Danish companies have been influential in the shipping industry with the design of the largest and most energy efficient container ships in the world, and Danish engineers have contributed to the design of MAN Diesel engines. In the software and electronic field, Denmark contributed to design and manufacturing of Nordic Mobile Telephones, and the now-defunct Danish company DanCall was among the first to develop GSM mobile phones.
Danish engineers are world-leading in providing diabetes care equipment and medication products from Novo Nordisk and, since 2000, the Danish biotech company Novozymes, the world market leader in enzymes for first generation starch based bioethanol, has pioneered development of enzymes for converting waste to cellulosic ethanol. Medicon Valley, spanning the Øresund Region between Zealand and Sweden, is one of Europe's largest life science clusters, containing a large number of life science companies and research institutions located within a very small geographical area. Danish-born software engineers have taken leading roles in some of the world's programming languages: Anders Hejlsberg, (Turbo Pascal, Delphi, C#); Rasmus Lerdorf, (PHP); Bjarne Stroustrup, (C++); David Heinemeier Hansson, (Ruby on Rails); Lars Bak, a pioneer in virtual machines (V8, Java VM, Dart); Lene Vestergaard Hau (physicist), the first person to stop light, leading to advances in quantum computing, nanoscale engineering and linear optics.