Background
Britain's American colonies broke with the mother country in 1776 and were recognized as the new nation of the United States of America following the Treaty of Paris in 1783. During the 19th and 20th centuries, 37 new states were added to the original 13 as the nation expanded across the North American continent and acquired a number of overseas possessions.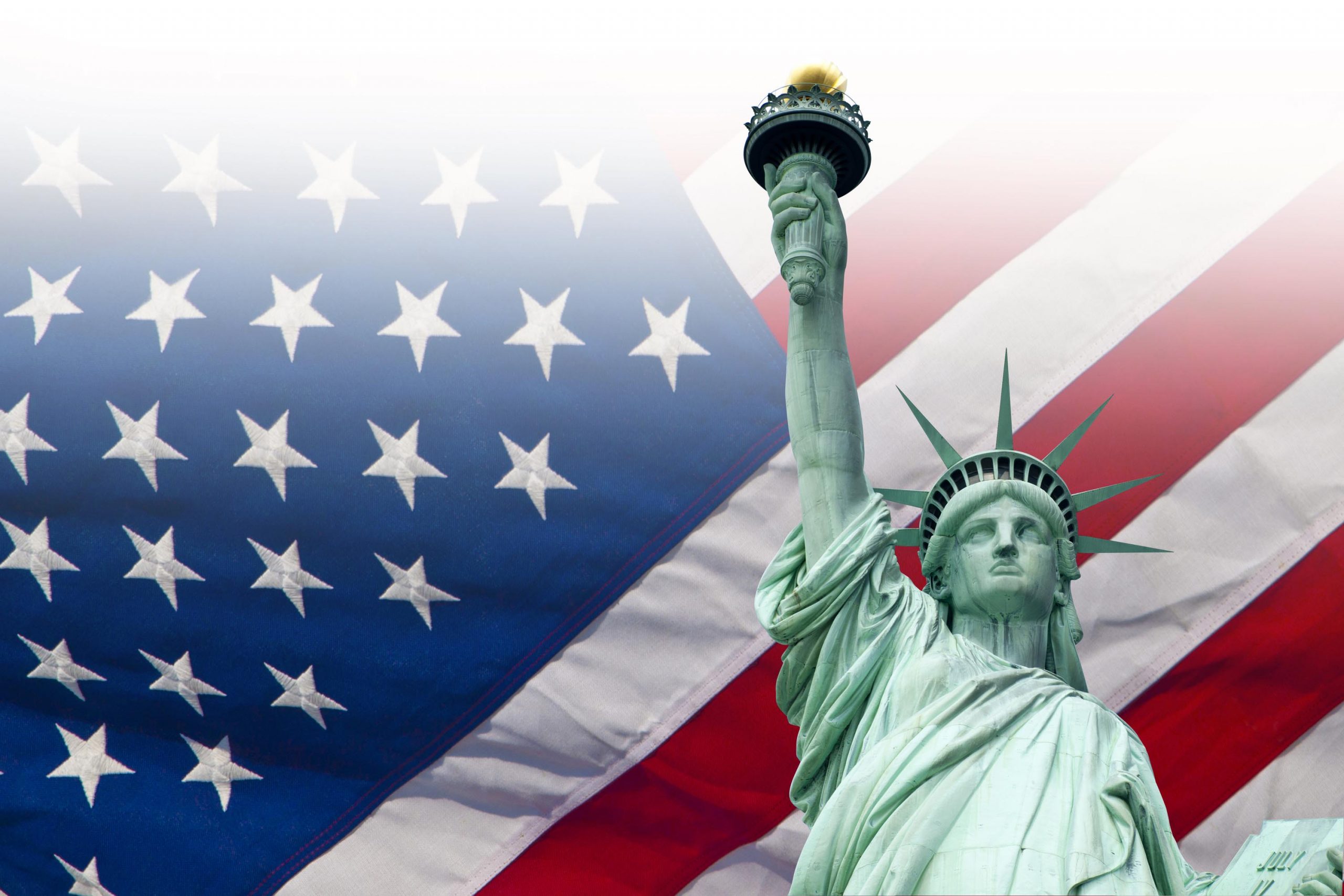 The two most traumatic experiences in the nation's history were the Civil War (1861-65), in which a northern Union of states defeated a secessionist Confederacy of 11 southern slave states, and the Great Depression of the 1930s, an economic downturn during which about a quarter of the labour force lost its jobs. Buoyed by victories in World Wars I and II and the end of the Cold War in 1991, the US remains the world's most powerful nation state. Over a span of more than five decades, the economy has achieved steady growth, low unemployment and inflation, and rapid advances in technology.
Location
North America, bordering both the North Atlantic Ocean and the North Pacific Ocean, between Canada and Mexico.
Area
-Total: 9,826,675 sq km
-Country comparison to the world: 3
-Land: 9,161,966 sq km
-Water: 664,709 sq km
-Note: includes only the 50 states and District of Columbia
Climate
Mostly temperate, but tropical in Hawaii and Florida, arctic in Alaska, semiarid in the great plains west of the Mississippi River, and arid in the Great Basin of the southwest; low winter temperatures in the northwest are ameliorated occasionally in January and February by warm chinook winds from the eastern slopes of the Rocky Mountains.
Population
-310,232,863 (July 2010 est.)
Net Migration Rate
-4.25 migrant(s)/1,000 population (2010 est.)
Ethnic Groups
White 79.96%, black 12.85%, Asian 4.43%, Amerindian and Alaska native 0.97%, native Hawaiian and other Pacific islander 0.18%, two or more races 1.61% (July 2007 estimate).
Note: a separate listing for Hispanic is not included because the US Census Bureau considers Hispanic to mean persons of Spanish/Hispanic/Latino origin including those of Mexican, Cuban, Puerto Rican, Dominican Republic, Spanish, and Central or South American origin living in the US who may be of any race or ethnic group (white, black, Asian, etc.); about 15.1% of the total US population is Hispanic.
Religions
Protestant 51.3%, Roman Catholic 23.9%, Mormon 1.7%, other Christian 1.6%, Jewish 1.7%, Buddhist 0.7%, Muslim 0.6%, other or unspecified 2.5%, unaffiliated 12.1%, none 4% (2007 est.)
Languages
English 82.1%, Spanish 10.7%, other Indo-European 3.8%, Asian and Pacific island 2.7%, other 0.7% (2000 census)
Note: Hawaiian is an official language in the state of Hawaii
Literacy
-Definition: age 15 and over can read and write
-Total population: 99%
-Male: 99%
-Female: 99% (2003 est.)
Administrative Division
50 states and 1 district*; Alabama, Alaska, Arizona, Arkansas, California, Colorado, Connecticut, Delaware, District of Columbia*, Florida, Georgia, Hawaii, Idaho, Illinois, Indiana, Iowa, Kansas, Kentucky, Louisiana, Maine, Maryland, Massachusetts, Michigan, Minnesota, Mississippi, Missouri, Montana, Nebraska, Nevada, New Hampshire, New Jersey, New Mexico, New York, North Carolina, North Dakota, Ohio, Oklahoma, Oregon, Pennsylvania, Rhode Island, South Carolina, South Dakota, Tennessee, Texas, Utah, Vermont, Virginia, Washington, West Virginia, Wisconsin, Wyoming
Dependant Areas
American Samoa, Baker Island, Guam, Howland Island, Jarvis Island, Johnston Atoll, Kingman Reef, Midway Islands, Navassa Island, Northern Mariana Islands, Palmyra Atoll, Puerto Rico, Virgin Islands, Wake Island.
Note: from 18 July 1947 until 1 October 1994, the US administered the Trust Territory of the Pacific Islands; it entered into a political relationship with all four political units: the Northern Mariana Islands is a commonwealth in political union with the US (effective 3 November 1986); the Republic of the Marshall Islands signed a Compact of Free Association with the US (effective 21 October 1986); the Federated States of Micronesia signed a Compact of Free Association with the US (effective 3 November 1986); Palau concluded a Compact of Free Association with the US (effective 1 October 1994).
Legal System
Federal court system based on English common law; each state has its own unique legal system of which all but one (Louisiana, which is still influenced by the Napoleonic Code) is based on English common law; judicial review of legislative acts; has not accepted compulsory ICJ jurisdiction.
Economy
The US has the largest and most technologically powerful economy in the world, with a per capita GDP of $46,400. In this market-oriented economy, private individuals and business firms make most of the decisions, and the federal and state governments buy needed goods and services predominantly in the private marketplace.
Industries
Leading industrial power in the world, highly diversified and technologically advanced; petroleum, steel, motor vehicles, aerospace, telecommunications, chemicals, electronics, food processing, consumer goods, lumber, mining.
Ports and Terminals
Corpus Christi, Duluth, Hampton Roads, Houston, Long Beach, Los Angeles, New York, Philadelphia, Tampa, Texas City.